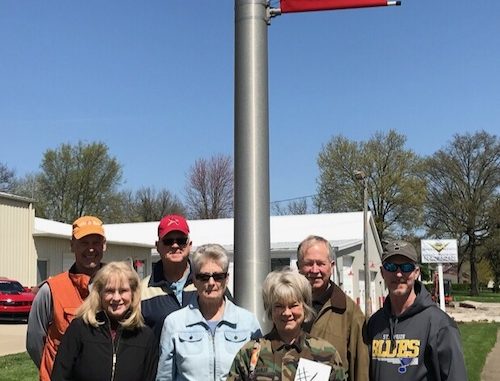 HOMETOWN HERO–A banner honoring local veteran Raymond Ratz is currently on display across the street from the Red Bud VFW Post. Pictured with the banner are his children: in front: Joan Williams, Kathy Ratz and Mary Lucash; in back: Gerald Ratz, Charles Ratz, Mark Ratz and Kenny Ratz. Not pictured is Patty Graves.
The latest Hometown Hero featured by the Red Bud VFW Post 6632 is Raymond C. Ratz.
Born in Red Bud to A.J. and Ella Dinges Ratz, he attended Cathedral Catholic High School in Belleville. Ratz entered the United States Army in 1942, receiving basic training at Camp Wolters, Texas.
For more on Ratz, please see this week's print edition.